Stopping the World - Wordwork in Rwanda
Perpetrators and Youth interact in the midst of a large Forum held in Kigali, Rwanda, May 2018. This episode 'Perpetrators and Youth' is part of the CFOR film series, 'Stopping the World: Worldwork in Rwanda'. In this episode, two perpetrators of the 1994 Genocide against Tutsi disclose and reflect on their actions while in their teens, 24 years ago, as well as their fears today and relationship to their communities. Participating youth, themselves in their teens, challenge and request of the perpetrators to speak the truth to their children, in order to create a different future.
Filmed by Daniel Johnson, edited by Daniel Johnson and Arlene and Jean-Claude Audergon of CFOR.
Sign up for upcoming films
Do you want to be emailed about newly posted films? Fill out the form and we'll  send you the link to the new film by email.
Film Documentary of our work in Rwanda (excerpt)
For the Next Generation: Worldwork in Rwanda, June 2017 4.5 minute excerpt, including perpetrators and survivors of the 1994 genocide against Tutsi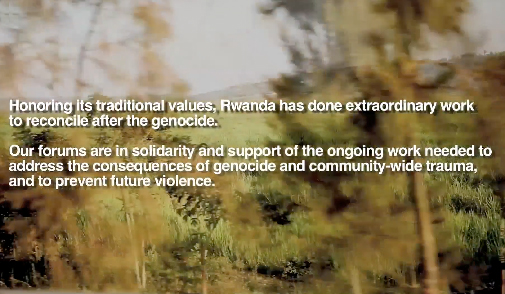 To access the whole one-hour film, please click on the link below.