Far In Far Out: Ukraine- Transforming living history towards a sustainable future
Project leaders: Boris Sopko and Neus Andreu Monsech
 (read their bios here)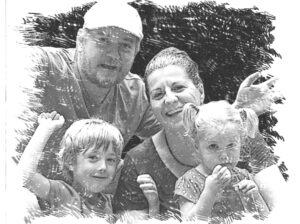 This project arose at the start of the war, in respect to immediate concerns and requests from trainee facilitators in Ukraine, and it will orient and contribute to supporting these facilitators' contribution in the country for the longer term.
Boris and Neus have been deeply connected with the Ukraine Process Work Training over the past few years, particularly focusing on training and supervision in conflict resolution and facilitating the wisdom and vitality in community. Boris has also been in a coordinating role for the programme, and after the war broke out, he's been asked by the trainees to step further into this role, coordinating activities and supporting local initiatives and leadership. He is also connected to colleagues from the Processwork programme in Russia, which had been managing and caring for the Ukraine training programme – this naturally calls for respect for limits and sensitive relationships of everyone involved, while caring for and facilitating the overall situation and all involved.
Since the war began, the Ukraine trainees have been organising daily meetings on Zoom, to come together among themselves, to check in, share practical and logistical information, and find emotional support during these traumatic and frightening times. Many of the Ukrainian trainees are professionals, usually in the role of caring for others, and so this support has been a lifeline for them.
The project has evolved from here – to coordinate the opportunity (should it become possible), for the Ukraine trainee facilitators to gather for a 5 day retreat in August 2022, in a residential format. The retreat will include facilitation training and support, in relation to processing polarisations and the impact of community-wide trauma. The retreat will also be an opportunity for in-depth facilitated dialogue among the learning community gathered, to process how they are doing, their role as facilitators in the wider community, and directions forward.
From here, the Ukraine project will continue by way of facilitating next steps and initiatives that arise out of these community interactions, as well as linking with a diversity of practitioners, and organisations in Ukraine.
Boris and Neus are Processwork facilitators and trainers, living in Spain / Catalunya. Boris is from Slovakia and his father lives in Ukraine. If possible, they intend to stay in the Ukraine, for some months, in order to support and facilitate next steps, within the local community, as is welcomed and useful.