The CFOR`s Facilitation for leaders course offers a few fellowships each year to support participants' contributions in community, and to provide training at a reduced fee. There were many wonderful projects over the years! They included facilitation in various areas: facilitating within prisons, community building in general, working with families in the community, facilitating awareness of dynamics of racism…to name a few. That is why we wanted to share some of them here, in hope that they could be seen, recognised, and perhaps to be a source of inspiration for future fellows, as well as other practitioners. We have just started collecting the material, so there is more to come!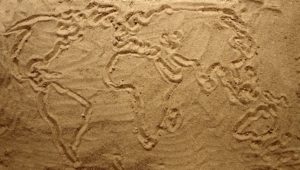 Rose Lancaster, 2018-19 Facilitation for leaders Fellow
I am interested in how a spiritual group stays relevant for society and adapts to a changing culture. My aim is to support a religious organisation explore internal tensions. By giving space for internal conflict to be processed more progressive attitudes of inclusivity will be given a chance to emerge. If conflict is normalised, individuals will feel able to question the status quo.
I held the first of bi-yearly sessions for community exploration of difficult topics within the group. As this was a beginning point for this journey, I framed the session with an introduction to rank dynamics and a chance to reflect on this within pairs, and within the group. This was accompanied by a quick warm-up game that plays with perceptions of groups and how we form groups. We opened up the discussion and sorted topics to discuss and went into an exploration of spiritual hierarchy.
The discussion pulled out the subtleties of why a spiritual hierarchy is formed and the difficulties of how it can play out. I named the edge to speaking out against the group which is particularly difficult in a religious organisation and is the crux of this topic. My learning in this session is how strongly a group can hold onto its status quo, but by bringing in personal stories, individuals can be empowered individuals to break out.
Niels Kodewijn, 2017-18 Facilitation for leaders Fellow
During the CFOR of 2017/2018 
Niels
 Koldewijn worked as fellow on an action research called  'Processing shadows in order to strengthen points of light'". As a social entrepreneur and community mobilizer he works daily in various contexts and countries with the power of collective dreaming as fuel for transforming communities. Recently he developed within a European collaboration a new facilitation tool that doesn't only look at the dream, but also how to enter into the disruption and challenges in a community as a way to deeper transformation. So how to use the shadows (challenges) in order to strengthen the points of light (dreams).
As fellow he tracked his own learnings around this question by sharing own reflections and hosting interviews with others in the form of podcasts. You can listen to them here;
https://soundcloud.com/niels–koldewijn
On the other hand he worked on applying learned lessons in the CFOR courses in three different projects where the new facilitation tool, the Go Deep Game, was applied on community level. In the period during and shotly after the CFOR course community interventions were facilitated in Greece, Portugal and Holland. Each program works with a group of 'players' who in a 5 to 6 day program work with and in a community to transform the field by working towards an event or intervention.
In each country the chosen topics present in the field and corresponding event organized were different, from a privilige theater, to a diversity and unity community celebration. This makes sense considering that each community context is different. Yet the biggest learning that this research and the CFOR training offered was that although the game uses process-work inspired group exercises, it was noticable that the quality of these activities and interventions had another level of depth due to the deepened awareness of the facilitator of the game/process. And that deepened over time, especially with an increasing insight into seeing how roles in the field are playing out and how by naming and framing them the project, process and game gained force.
So at the end of this research the understanding was that indeed processing shadows helps to unlock potential in a community, yet that the difference between realities was less of an influence to the outcome of the project, much more so the quality of facilitation. And this quality has been increased by taking part of the CFOR courses.